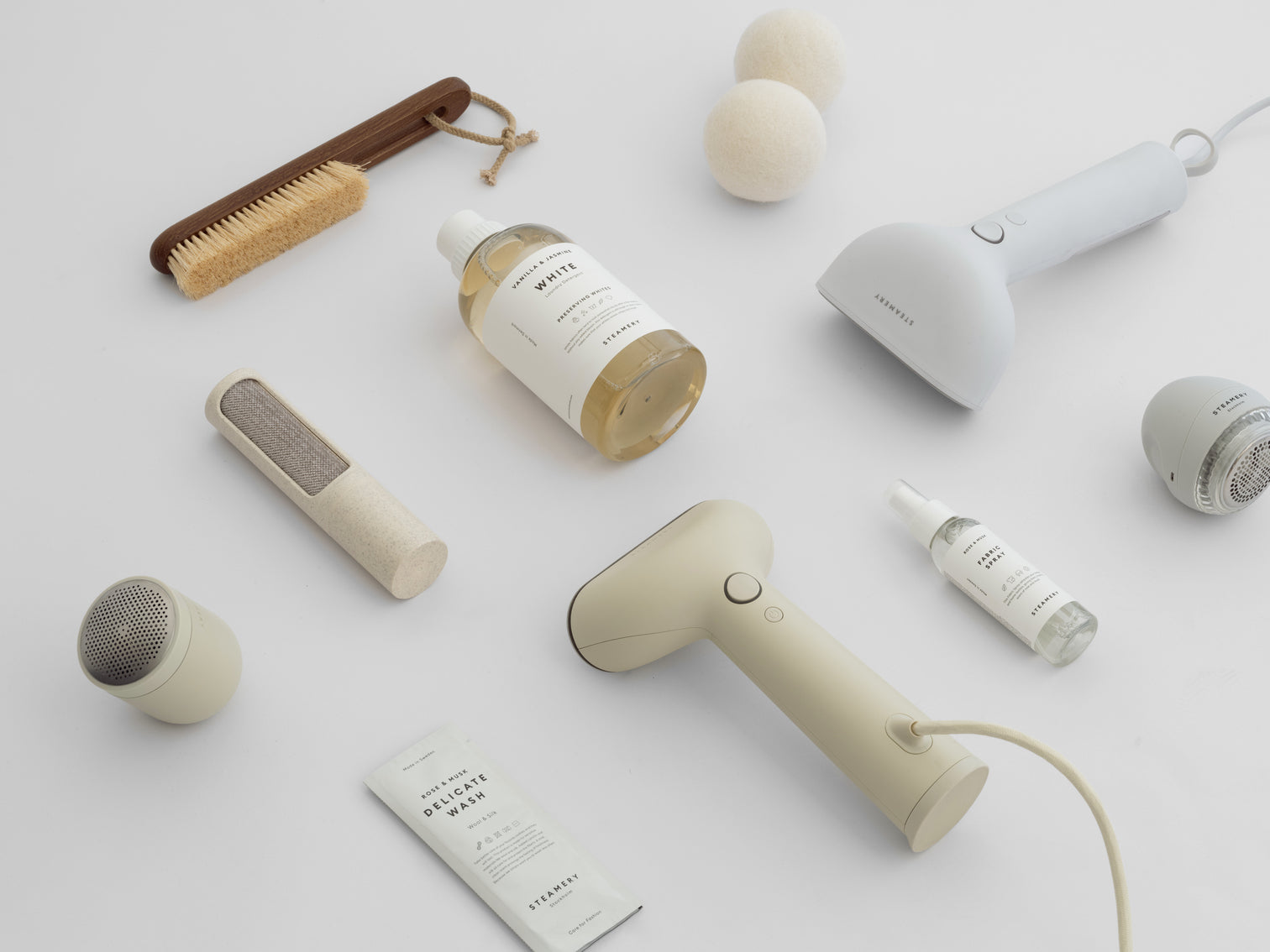 How to take care
of your LN Knits
Welcome to the LNKnits family!
Hi there, first of all, we would like to congratulate you with the purchase of your handmade, fair & sustainable baby alpaca knits.  In order to enjoy your treasure for years and years, we have developed an easy, LN Care guide. From handwashing to steaming, from breathing to storing. We explain it all in full detail.
Please note: Machine washing is completely forbidden. And if you do so, we warn you that there will be extreme shrinkage and a LN Knits that feels like cardboard (for good!). Your choice!
Option 1: refreshen your knit
Remove pilling
Pilling is completely natural and will happen, 100%. It's better you know, so you know what to expect, that this is normal and that you can easily remove the fluffy little balls yourself.
Option 1: by using one of our pillow fabric shavers. It's so easy and works like a charm.
Option 2: by very gently using a sharp small scissor and cutting the little balls. 
Shop
Steam
Steam (& iron if needed) your knit with our selection of steamers. Add our steam water for a perfect result and an excellent smell.
Shop
Clothing & shoe mist
Our Clothing Mist is lightly perfumed; however, the real power is in the active bacteria culture that helps eliminate unwanted odors.
Shop
Did you know?
Baby alpaca
We work with a high percentage of baby alpaca yarn, up to 82%. Baby alpaca is a long-haired animal and since our knits are made out of natural products, it is normal that the garment changes slightly as you wear it. The 18% of polyamide we added is to retain the shape. This does not affect the extreme softness. 
Option 2: hand wash your knit
Step 1
Put your knit in a small bowl (the smaller, the better).
Step 2
Take a bowl of lukewarm water (not cold!)
Step 3
Add a drop of our delicate wash.
Shop
Step 4
Gently wash your knit and refresh the lukewarm water until the knit is free of wash product.
Step 5
Press the excess water out of the knit.
Step 6
Take the knit out of the bowl and place it on a cloth & leave it to dry in a little 'ball' – do not put it flat. Turn the wet 'ball' of knit around once in a while. After a day or two, your knit should be dry and ready-to-wear!
Other useful tips
* Regularly let your knit 'breathe' outside (after dinner, a stressful day) by laying It down instead of hanging it. 
* Safe option always is to take your knit to the dry cleaner once in a while. We strongly recommend 'Droogkuis Ideal', in Antwerp. 
* Stains can be removed with some 'cleaning spirit'. Add the cleaning spirit to a little cloth and press it onto the stain. Repeat as far as necessary.
* Found a hole? Our signature baby alpaca boucle is irregular. It is possible it is not a hole but a piece of thread with less yarn. In any case, we will solve it for you. Contact us at ellen@lnknits.com and we'll take care of it, or you can buy a Repair Service ticket on our webshop.
 * Choose your occasion. Do not wear your LN Knits for gardening. Nor for carrying wet dogs (or children) through the forest. Also be aware of handbags, rug sacks, etc.. That can scratch against your knits and create pilling. 
* Always fold your knit and lay it away; preferably in a dust-free bag. Do not hang the pieces on a hanger. It will stretch the piece unnecessarily and might damage the piece. 
* We also offer a free steaming session for your knits in our head office (Brasschaat). Contact us for more information: ellen@lnknits.com.
Conclusion
As you can see, keeping your LN Knits in an excellent condition requires some effort.
Yet with this little effort you'll be able to enjoy your precious LN Knits for a lifetime.
Oh and if you might not have heard already… 'Once you go LN Knits you never go back'.
That might be a little warning too!