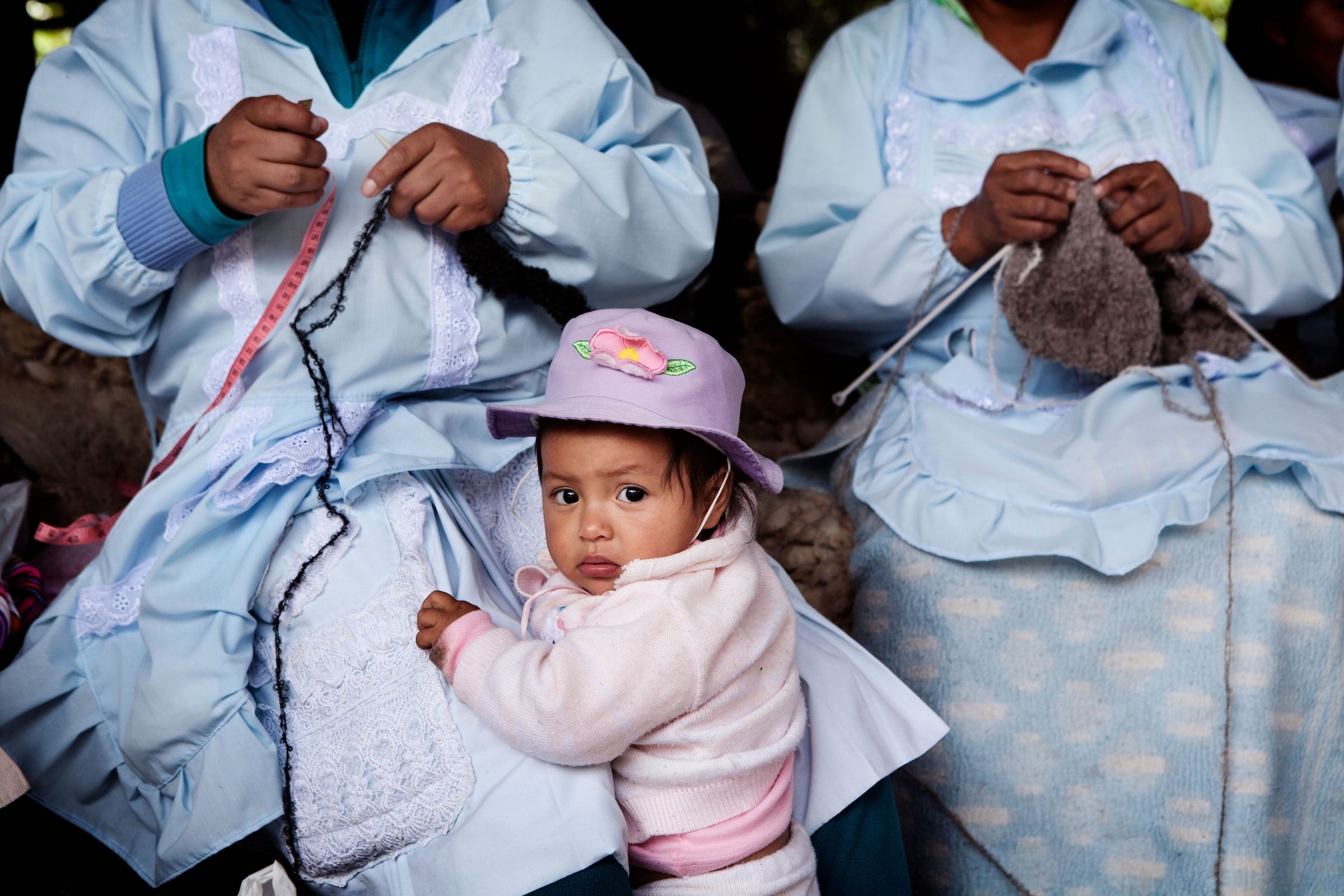 Make a difference
Social responsibility has been on the LN Knits agenda since the very start and will always be an integral part of our business.
When you buy something from LN Knits, you not only treat yourself but you also make +260 people very happy. How is this possible? We are proud to collaborate with high standard suppliers who have strong environmental and social concerns like Solid Peru in Ayacucho. Solid has been our main supplier since the very start.
The main goal of Solid is to fight poverty long term. They try to improve the living conditions of disadvantaged people on a worldwide basis.
Solid Peru is situated in Ayacucho because the rough climate, rugged geography and its history of violent social revolution makes Ayacucho one of the poorest and most underdeveloped regions of Peru. Solid crafts establish and guides sustainable handicraft workplaces where underprivileged women can be employed in an honest way and where the focus is highly qualitative materials and authentic handicrafts.
Besides the workspaces, Solid has the project DIA: Desarrollo Integral del Adolescente. Translated as 'development of adolescents', which specifically addresses the issues of teenage pregnancy and gender-based violence against young girls. Through different projects Solids wants to strengthen the self-reliance andindependence of girls in high-risk situations. DIA includes various projects. The EMMA project is one of them.
EMMA (Empowerment Of Adolescent Mothers) offers guidance to teenage mothers in order to make sure they are followed up by trained nurses during their pregnancy. Most of the teenage girls come from a poor background, living in the poor districts of Ayacucho. Many of them are in a vulnerable situation, living in the midst of abandonment, violence, lack of schooling and poverty. Due to their young age and the situation in which they live, they express limited management of their emotions both for themselves and in their role as mothers.

For this reason, the EMMA project has been implemented to improve the parenting skills and the emotional well-being of these young parents. With a team of midwives and social workers, the project yearly works with 100 girls aged 12 to 18 years old, with children under 3 years old.
By strengthening skills, knowledge and self-esteem, the project wants to reconnect these girls to health services, the educational system, legal protective measures and support programs provided by the state or other organizations, and break the vicious cycle of violence and poverty.
The result? 100% of the teenage mothers in the project prevented a second pregnancy! An extraordinary result, in a group of vulnerable teenagers, surrounded by machismo, acceptance of sexual violence and teenage pregnancies, discrimination and misbeliefs on contraceptive. 66% of these young mothers developed a better relationship and a good attachment with their child, compared to a bare 4% at the start of the program. We are happy to be able to share all of this with you and we are excited about helping even more in the future. If you have any questions or concerns regarding our work that you were unable to find an answer to, we would be happy to help you via email (hello@lnknits.com).
Please keep making a difference with us.